Being one that always loves to play around with new things, I wanted to upgrade to WordPress 2.5 RC2 on my production site but being production I didn't initially want to risk it. Instead I did a quick install on my development server which took less than 5 minutes and gave things a run through. I was so impressed by the new admin interface and integrated media manager that I decided to throw caution to the wind and go ahead and upgrade. So here we go as I bring Jon's View up to WP 2.5 RC2
—–
First thing that I definitely must do is make a backup. To be safe I have Plesk perform a full backup on my domain but just to be extra safe I dump my wordpress and mint databases to my local computer for safe keeping.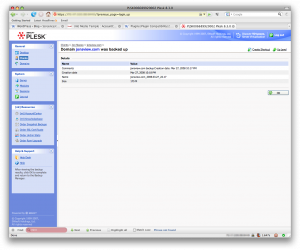 With that done it's time to go to the command line, my natural habitat 😛 Now I will admit that I am not doing this the right way. That is, I'm not duplicating my production environment, performing the upgrade, testing, and then pushing the new site out. What college student has time to do that! So I'm just going to go for it since a restore will take less than 5 minutes:
Move production files to a backup directory (yes, the site it down as of 10:30 PM)
Extract files
Copy the old wp-config.php and wp-content from the backup
Back to firefox now, it's time to upgrade the database. And I'm presented with the new login! And everything is back up and running (10:34 PM). That's it! Jon's View is now running WordPress 2.5 with only 4 minutes of visible down time.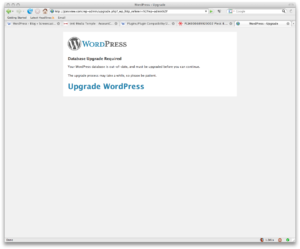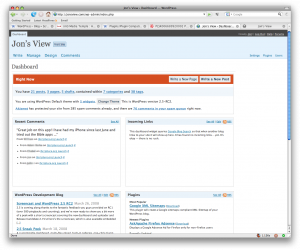 I forgot to disable the plugins before doing the upgrade but fortunately WP 2.5 has taken care of that by disabling any non-compatible plugins. So all that's left is to update to compatible plugins and remove those I don't use anymore. I've been meaning to clean out some of the cruft that I've collected since I installed.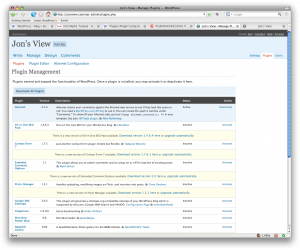 Wrap Up
What I really like:
Redesigned administrative interface (more my style, light on clutter)
Automatic plugin updates
Built-in Media Library
Considerably faster than 2.3 on my server
Of course there are still a few bugs and limitations but they have only been cosmetic up to this point with available workarounds. So all in all I am very excited with this new version.