While trying to upload a 4mb PDF file using the WordPress 2.7 media manager, I received a very unhelpful "HTTP Error" message. I found several references to mod_security being the problem, but that was for Apache setups. I finally stumbled on the true error by using the Browser uploader instead of the flash uploader. The real error message was 413 (Request entity too large). This lead me to the client_max_body_size directive of nginx. After adjusting this value to a larger value in my configuration file, my file uploaded successfully.
Hopefully this information comes in handy for a few people so that they don't waste time on a wild goose chase with the Apache HTTP Error problem.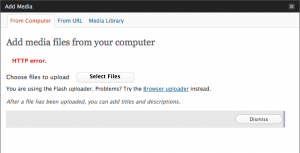 What exactly was the error?

The real problem.